Laohutan Ocean Park is an AAAAA national tourist spot situated in south of the city. New highlights include a polar aquarium, a world's biggest coral exhibition hall and a water-skiing course. The Coral Hall has an exhibition area of 3, 700 square meters. It exhibits coral reef fauna, with over 5,000 marine life-forms of more than 200 species. The Hall has 6 sections, namely, Selected Coral and Coral Fishes, Underwater Kaleidoscope, Sea Lab, Seeking Treasures over a Sunken Ship, Animal Knowledge Gallery, and Diving Performance. In the aquatic performance arena, splendid programs such as water-ballet, sea-maid shows, and dreamlike underwater wedding shows are offered. The Pole-Aquarium has been invested totally 470,000,000RMB, covering an area of 20,000 square meters with a construction area of 36,000 square meters. Bird-Singing Woods covers 45,000 square meters. The enormous bird cage in the garden is built on a mountain, having an area of 18,000 square meters; the central stanchion of the cage, 43-meter high, is sustained by 18 cables; the huge cage net is slung over the valley. There are altogether 2,000 birds of 80 species in the garden, including blue and white peacocks, red-crowned cranes, parrots, larks, thrushes and egrets.
Dalian Laohutan Ocean Park Pole-Aquarium was opened in 2002 and divided into five parts, including Dalian Tiger Beach Polar Marine Animal Museum, Gaiety Theatre and the Sea Animals Museum, etc. It is a large modern exhibition hall holding the north and south polar animals' exhibition and performance, being awarded as the "Polar Science Education Base" by the Chinese Arctic and Antarctic Administration. On 2007, Dalian Laohutan Ocean Park Pole-Aquarium was awarded by the National Tourism Administration as one 5A National Scenic Spot, honored as the only cultural landscape elected for marine culture among the first national 5A scenic spots.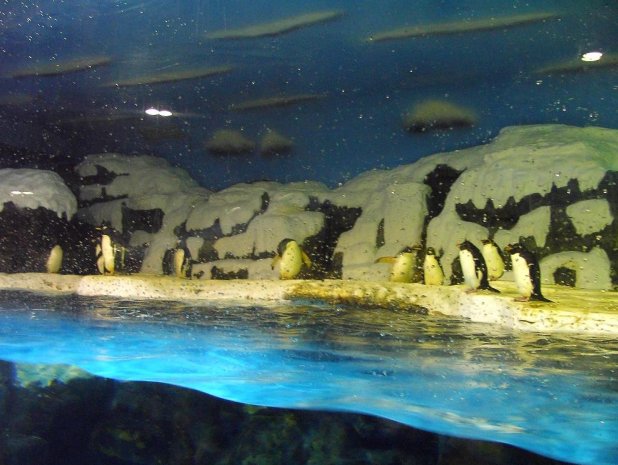 Situated in central Dalian city, Laohutan Ocean Park is a renowned state-level scenic area. Being the largest seaside theme park throughout China, Laohutan Ocean Park is endowed with the beauty of nature as well as the graceful human creation.
Inside the park, the gorgeous seaside scenery comprises of hills and stones framed by an azure sky and sea. Many attractive natural sceneries and magnificent man-made sights can be seen, especially the Tigers Sculpture Square, Laohutan Polar Region Marine Animals World and the Coral Hall.
Tigers Sculpture Square
Covering an area of 15,700 square meters, the square was designed in an irregular shape, not a traditional circular shape.
Tigers sculpture, designed by the famous Chinese painter and sculptor – Mr. Han Meilin, is the symbol of Laohutan Ocean Park. The sculpted tigers are 35.5-meter-long, 6.5-meter-high and 6.5-meter-wide and took Mr. Han two years and nine months to finish this great work.
Heading eastward, the six tigers are all different in shapes and sizes. They roar into the wind expressing their power as the King of Beasts. The Tigers Sculpture Square is the most beautiful and florid among many squares in Dalian.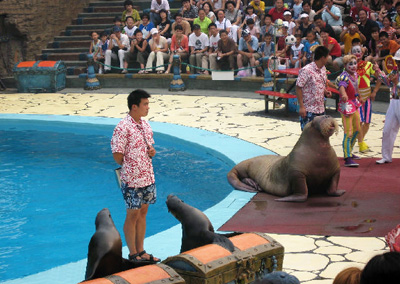 Polar Region Marine Animals World
In Polar Region Marine Animals World, you can not only see rare polar animals like beluga whales, sea otters, sea elephant and duckers that come to China for the first time but also other animals like cute dolphins, lovely penguins, polar bears and so on.
Animal stars give brilliant performance every day such as the gentle beluga kissing people and the dolphins'exuberant acrobatic display to music. All of these transport you into the magical kingdom that is ocean world and taste the animals getting on harmony with human beings.
You can also experience the freezing cold and the
polar lights in polar environment, where you can touch polar bears and reindeer personally. At the same time you can also learn the knowledge about the polar ocean world.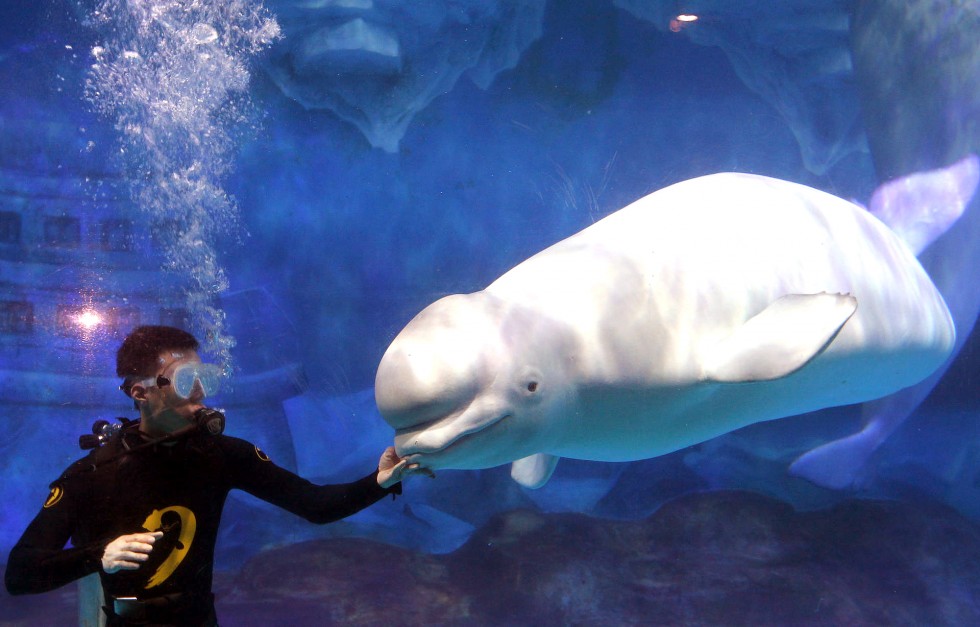 Coral Hall
The Coral hall is a destination where you may appreciate the colorful corals. The coral reefs as well as over 5000 marine life from over 200 species are exhibited here. The Coral Hall also features really strange fish on display. Besides that, water-ballet, sea-maid shows and dreamlike underwater wedding show is available here as well in the aquatic performance arena.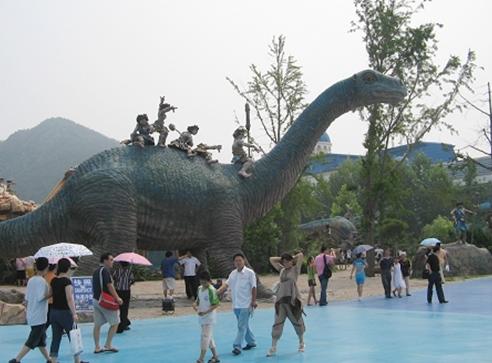 Other Highlights
Excepting the above three, you can view the biggest half-natural man-made birdcage in China-Sing Birds Woods with more than 2,000 birds, and the longest aerial rope across the ocean in China, four-dimensional cinema, Pirate Ship and so on.
Price:
Ticket for 5 venue:
Adult: 220 RMB
Children under 1.3 m: free (each adult can take 2 children)
Student: 175 RMB
How to go there:
By Taxi
simply say 老虎滩 (Lǎohǔ tān)
By Bus
#404 stop at 老虎滩 (Lǎohǔ tān)
#4 stop at 老虎滩 (Lǎohǔ tān)